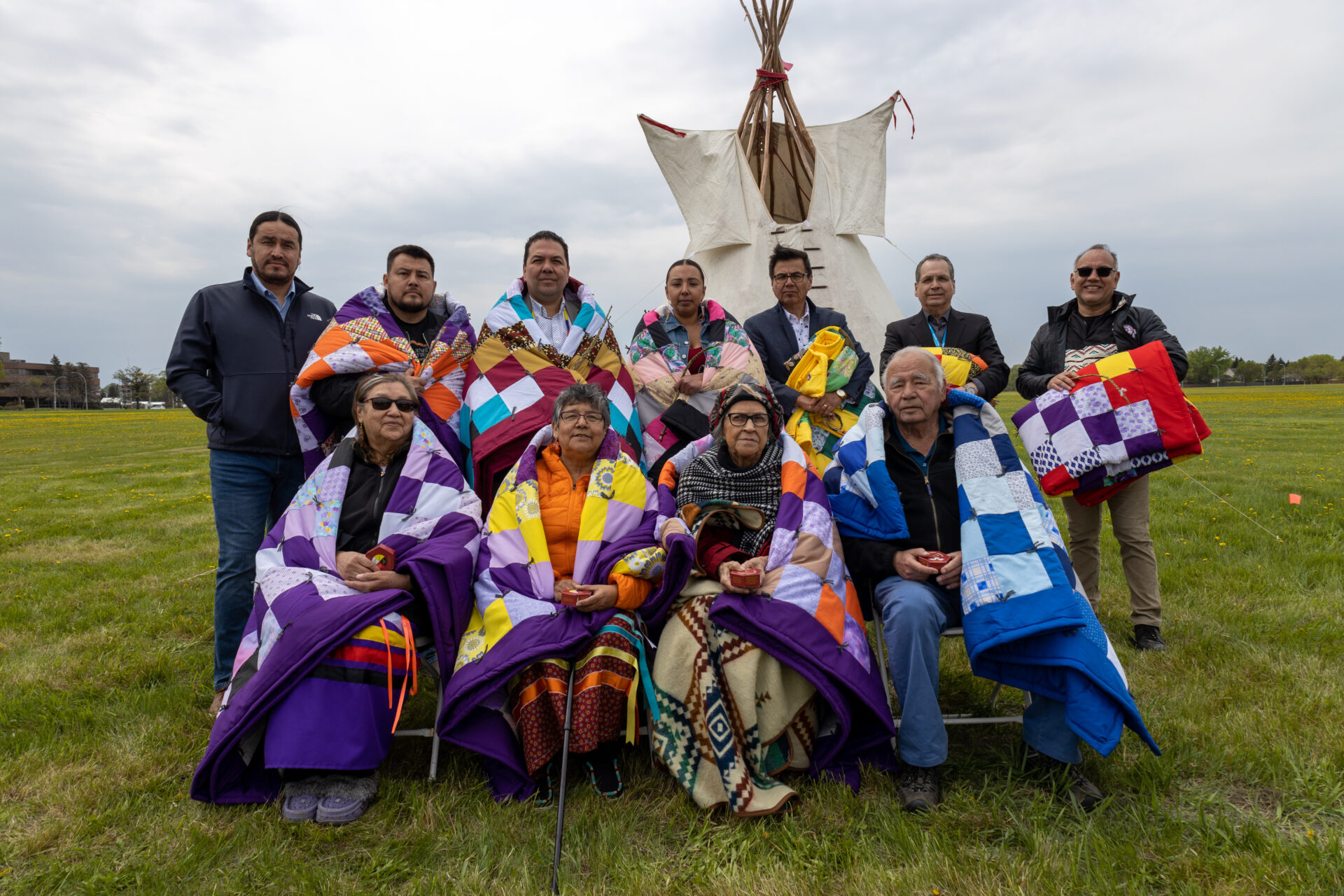 Welcome to Naawi-Oodena!
Land Reclamation Ceremony and Blessing of Naawi-Oodena Lands a first Event of its kind in Treaty No. 1 Territory and Canadian History
May 24, 2023 – Naawi-Oodena, Treaty One Territory – Today, the Treaty One Nations' leadership gathered alongside delegates from the Assembly of Manitoba Chiefs (AMC), Manitoba Keewatinowi Okimakanak (MKO), Assembly of First Nations, the Province of Manitoba, and the City of Winnipeg, at the Naawi-Oodena Urban Economic Development Zone to celebrate the repatriation of the 109 acre-site to the Treaty No. 1 First Nations in an historic, once in a lifetime Land Reclamation Ceremony.
This Land Reclamation Ceremony is the first event to be held on the Naawi-Oodena lands since its official conversion to reserve status, when it was repatriated to the Joint Reserve land base of the seven Treaty One First Nations on December 16, 2022.
This intent of this ceremony is to bring Treaty One's leadership together with their respective Treaty Partners to celebrate the upcoming developments, the work that has been done to this point, and to bless the grounds in a good way before first developments commence.
"It wasn't too long ago we were still wondering whether or not we were even going to be at this site, doing what we are doing right now, said Treaty One Chairperson and Brokenhead Ojibway Nation Chief Gordon BlueSky. "It wasn't too long ago, we had to get approval for access through a lock and key through the security outfit that was here. It is a really happy day for me to be out here, for us to be walking on our own land, on our own Treaty One Jointly held Economic Development Zone, right here in Winnipeg. This is a once in a lifetime opportunity, that you will ever see a piece of land like this, open for in-fill development in any urban area across Canada. It's an amazing opportunity, and I'm proud to be the first Chief in history to officially say, 'Welcome to Naawi-Oodena!'"
Located on the lands of the former Kapyong Barracks in Winnipeg, MB, this area is slated to become the largest urban reserve in Manitoba and one of the largest First Nation-led Urban Economic Development Zones in Canada to date.
Chief BlueSky added, "I'm happy to be a part of this historic transfer of land back to our communities and to further the development of our own Governance structures. At this point I would say it's very important for our Treaty One community members to have the opportunity of unlocking the economic opportunities available here—for our members, our communities, and for Winnipeg."
For development to begin, the seven Treaty One First Nations are now engaged in finalizing Treaty One lands management regimes under the First Nations Lands Management Framework Agreement (FNLMFA). There are currently four communities out of seven who are not governed under a Land Code: Peguis First Nation, Roseau River Anishinabe First Nation, Sagkeeng First Nation, and Sandy Bay Ojibway First Nation. These communities are undergoing the voting process as set out in each Community's Ratification Process, according to procedures laid out in the First Nations Lands Management Act (FNLMA).
Currently, an agreement has been made with Indigenous Services Canada to begin developments on Block A, the 7.388-acre parcel located on the Northeast corner of Taylor Avenue and Kenaston Boulevard. Construction is expected to begin in early fall season of 2023.
For media inquiries, please contact:
Vic Savino
Director of Communications, Treaty One Nations Inc.
Email: vsavino@treaty1.ca | Cell: 204-770-0392