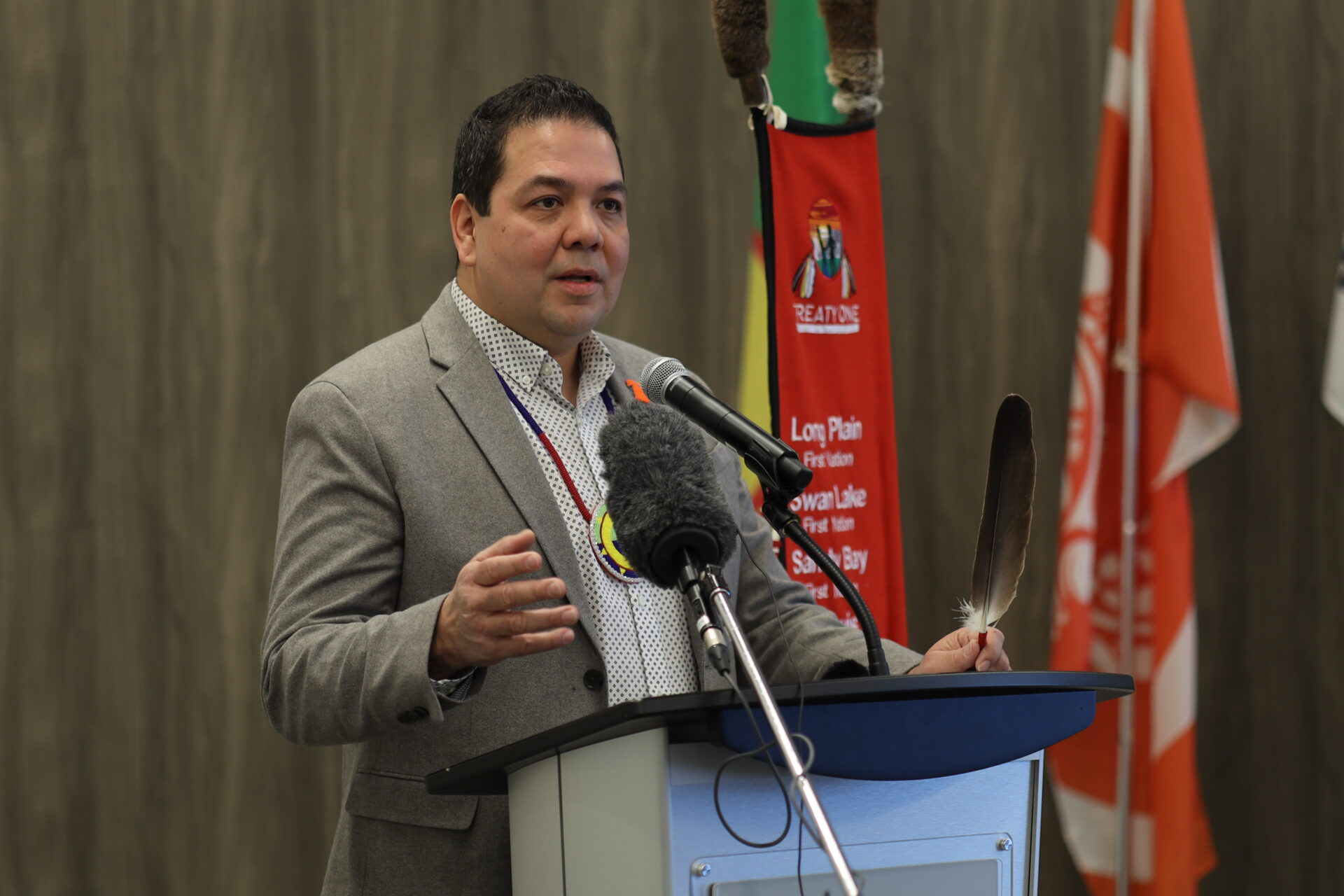 Naawi-Oodena Officially Converted to Joint Reserve Lands to become the Largest Urban Reserve in Manitoba
An historic step towards Economic Reconciliation
December 19, 2022 – Winnipeg, MB – To conclude negotiations spanning the course of two decades, lands of the former Kapyong Barracks in Winnipeg, MB, were officially converted to reserve and repatriated to the Joint Reserve land base of the seven Treaty One First Nations on December 16, 2022.
Currently the largest First Nation-led Urban Economic Development Zone in Manitoba and the only Urban Reserve to be held collectively by the Treaty One Nations, Naawi-Oodena will set a precedent across Canada for any First Nations developing their own Addition to Reserve (ATR) agreements for economic development zones within urban centres and rural municipalities.
Naawi-Oodena means "Centre of the Heart and Community" in the Anishinaabemowin language. Its development will result in the mutual benefits of jobs, income, and profits not only for citizens and businesses of Turtle Island's First Nations, but those of Winnipeg and surrounding areas. Revenues will flow to respective coffers that contribute to both the City of Winnipeg and First Nation governments as services, infrastructure, and programs are developed on Naawi-Oodena.
At final completion Naawi-Oodena could accommodate a mixed-use zone consisting of facilities geared towards residential, commercial, education, cultural, sports/recreational, and health, and community space-related purposes. Treaty One expects to begin putting shovels-to-ground in the spring of 2023, with development plans estimated to take 15 years to complete in three phases:
Phase I (Years 1-5): includes 100 residential units and 300,000 sq. ft of commercial space. Also includes about $25M in infrastructure required to support this level of residential and commercial development.
Phase II (Years 6-10): includes a further 600 residential units and another 400,000 sq. ft of commercial space with an additional $30M in infrastructure.
Phase III (Years 11-15) includes another 400 residential units & 350,000 sq. ft more commercial space. There is a further $29M in infrastructure required to support Phase III development.
To view the Naawi-Oodena Master Plan please visit https://treaty1.ca/naawi-oodena/.
Quotes:
"Our Leaders—including the ones were instrumental in starting this process and unfortunately did not live to see this day—worked nearly two decades to see this historic step forward in realizing the fiscal and economic potential of Naawi-Oodena. It is a day to celebrate the reclamation of our Treaty lands and look forward to the new generation of reconciliation and progress."
Treaty One Chairperson Chief Gordon BlueSky
Brokenhead Ojibway Nation
"In regard to the outstanding obligations of Treaty Land Entitlements, Naawi-Oodena represents the strength of the Treaty No. 1 Nations coming together as one. When I refer to strength—as the Treaty One Nations' membership, and Treaty One Nation lands—this is a huge economic opportunity for our Nations, and it is about time."
Chief Glenn Hudson
Peguis First Nation
I am honoured to witness the hard work and efforts by previous leadership and staff to see the creation and development of Naawi-Oodena. As we move one step closer, to creating the largest First Nation-led Urban Economic Development Zone in Canada, this Joint Reserve will prove to benefit the very people it is intended to help. This enormous step is one of many to come in the near future.
Chief Kyra Wilson
Long Plain First Nation
"Naawi-Oodena, which roughly translates to "Centre of the Heart and Community, is a name that was given to these lands through ceremony by a highly respected Knowledge Keeper from my home community, the late Dr. Dave Courchene Jr. It is very important to me that his legacy may live on through development of Naawi-Oodena for the generations to come."
Chief Derrick Henderson
Sagkeeng First Nation
"It is a very important day for our Nations and this victory will go down in history as an event that sets a precedent in economic development for First Nations across Canada. This is an opportunity for Naawi-Oodena to become a land of abundance not only for this generation, but for our children and their children's children."
Chief Craig Alexander
Roseau River Anishinabe First Nation
"It's about time. This process shouldn't have taken 20 years, but I'd like to acknowledge the leaders and all of the people involved who made this happen for our future generations. This is definitely a positive move forward to truth and reconciliation, and I look forward to seeing the development of the former Kapyong Barracks come to fruition. I just want to say kitchi-miigwetch to everyone that made this happen."
Chief Trevor Prince
Sandy Bay Ojibway First Nation
"I would like to congratulate all the previous and current Treaty No. 1 Chiefs, staff, and Knowledge Keepers on the final steps towards the joint-reserve creation of Naawi-Oodena.  It has taken close to 20 years to reach this momentous milestone. There is so much untapped economic potential with Naawi-Oodena not only for Treaty One First Nations' membership, but also for the city of Winnipeg and its citizens including the homelessness population, which needs a lot of support for employment, housing, addictions, and in many other areas."
Chief Jason Daniels
Swan Lake First Nation
For media inquiries, please contact:
Vic Savino
Director of Communications, Treaty One Nation
vsavino@treaty1.ca
204-770-0392