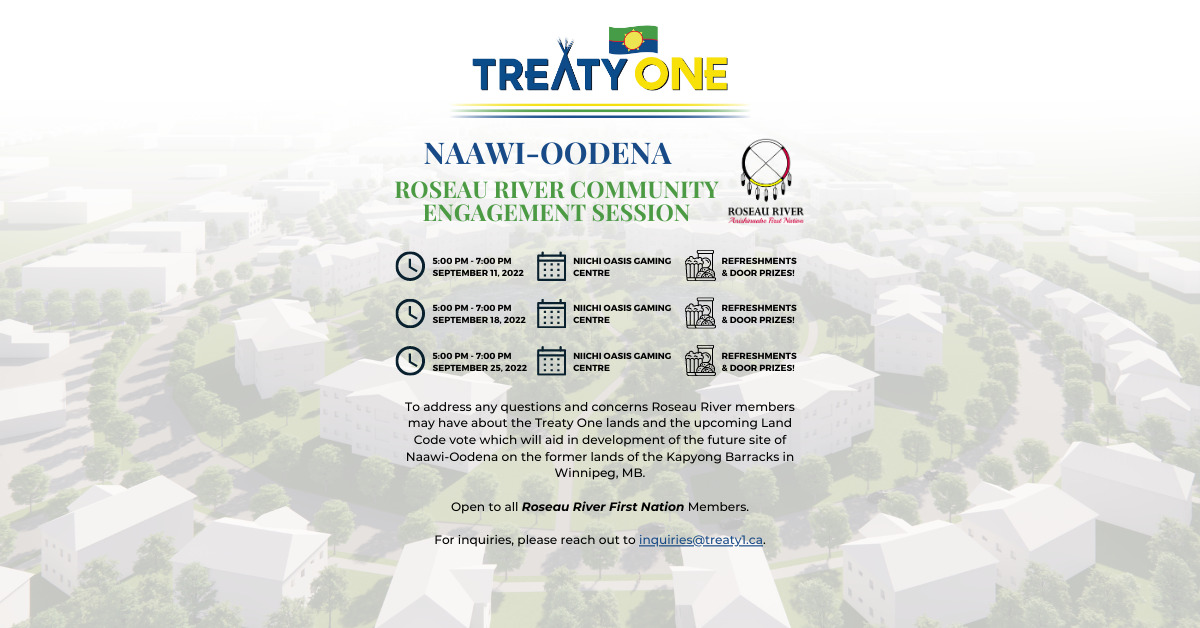 Treaty One Land Code – Roseau River Community Engagements
September 11 @ 5:00 pm
-
September 25 @ 7:00 pm
Join us for our Treaty One Land Code Information Sessions!
Our Treaty One Team is here to answer all your questions about the upcoming Treaty One Land Code vote and our Joint Reserve lands.
Naawi-Oodena, located on the former Kapyong Barracks lands in Winnipeg, is now an official shared Urban Reserve among the seven Treaty One First Nations. This historic transformation happened on December 16, 2022. We're on track to create Canada's largest First Nations-led Urban Economic Development Zone, bringing growth and progress to our community.
The Land Code is what allows the seven Treaty One First Nations to collectively govern and manage our Treaty One Joint Reserve lands. The Treaty One Joint Reserve Land Code DOES NOT affect Roseau River Anishinaabe First Nation's own reserve lands.
Info Session Details:
September 11, 18, and 25 from 5:00 PM – 7:00 PM @Niichii Oasis Gaming Centre.
These sessions are your chance to ask questions about the Treaty One Joint Reserve Land Code and to help shape the future of all Naawi-Oodena developments!
For more info, contact us at inquiries@treaty1.ca.