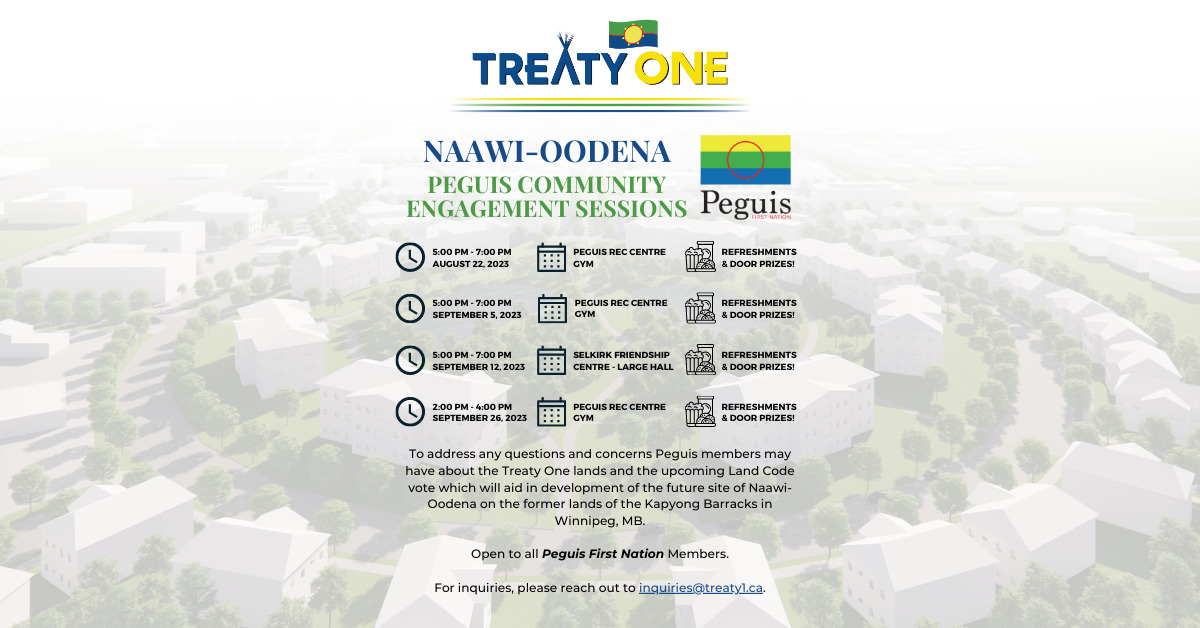 Treaty One Land Code – Peguis Community Engagement Sessions
August 22 @ 5:00 pm
-
September 26 @ 4:00 pm
Join us for our Treaty One Land Code Information Sessions!
We are excited to invite you to our upcoming information sessions, where the Treaty One Team will answer any questions you have about our Treaty One lands and about the upcoming vote being held for our community members. In addition, there will be refreshments and door prizes available for those in attendance!
Naawi-Oodena is the first jointly held urban reserve of the seven Treaty One First Nations, located on the former the Kapyong Barracks lands in Winnipeg. As of December 16, 2022, Naawi-Oodena has officially been converted to joint reserve land and is slated to become the single largest First Nations-led Urban Economic Development Zone in Canada.
A successful vote means that the seven First Nations can govern and manage our Treaty One lands—together—as one collective government. This land code DOES NOT affect the Peguis First Nation's reserve lands.
Session Locations and Times:
August 22 @ 5:00 PM – 7:00 PM: Peguis Community Hall
September 5 @ 5:00 PM – 7:00 PM Peguis Multiplex Centre
September 12 @ 5:00 PM – 7:00 PM: Selkirk Friendship Centre Large Hall, 425 Eveline St, Selkirk, MB
September 26 @ 2:00 PM – 4:00 PM: Peguis Community Hall
The primary goal of these sessions is to provide you with a platform to voice your questions and concerns regarding the Treaty One lands and the impending Land Code vote. Your active participation is crucial in shaping the development of the Naawi-Oodena site.
For any inquiries or further information, please feel free to contact us at inquiries@treaty1.ca.