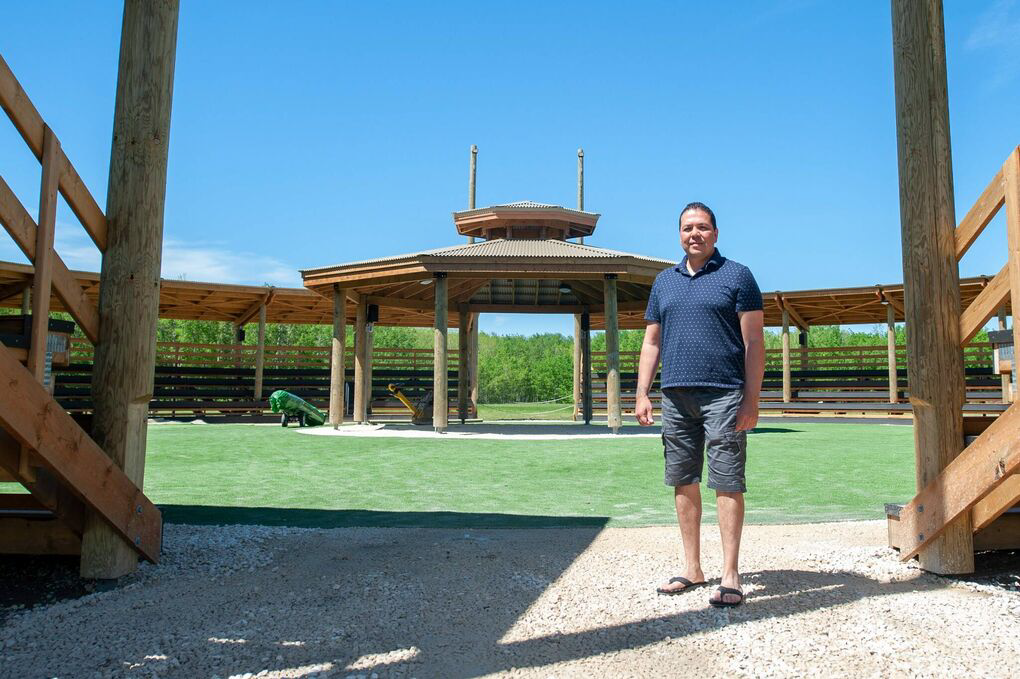 A place of learning and togetherness
New Brokenhead Space will facilitate cultural connection
When members of Brokenhead Ojibway Nation celebrate the grand opening of the multi-use arbour and powwow grounds Tuesday, they will fulfil the dream of late elder Ralph Kent.
"Ralph approached me at a meeting a few months after I was elected chief and suggested a powwow arbour. It was decided from there that we would work towards having a structure built to bring people together in a healthy space," said former chief Deborah Smith, who was elected in 2018.
"This is going to be a place where our young people can gather, learn the songs and dances of our people and it's important because it's a returning of those practices and teachings. The empowerment that comes along with regaining and reclaiming your culture is what matters most," she said.
The space, called "Maamawittaawiinan" or "gathering place" in Ojibwa, will be used to host a variety of events, including powwows, Treaty Days, workshops, cultural teachings and other traditional ceremonies and celebrations.
Chief Gordon Bluesky said it's a welcome upgrade for the reserve on Highway 59, about an hour's drive north of Winnipeg.
"It's something we've been wanting for a long time and it's something we can be proud of," said Bluesky.
"Before this arbour, it was like playing a baseball game in a field with no bases or a basketball in a barn instead of on a court," Bluesky said.
"There's a lot of things that make this place special and when people come there, they will come together and respect it. I think it's important that our community has a place like this to host our events."
The federal government contributed $890,000 to the facility, while Brokenhead put up $69,000.
When the pandemic put the project on hold and the price of building materials such as wood increased, the community raised money by selling tickets to Winnipeg Jets games.
The reserve worked with Strategies North of B.C. to create a proposal. The company serves Indigenous governments, economic development corporations and non- governmental organizations by offering expertise in funding, management, development, strategic planning and capacity building.
"They were fundamental to successfully writing the proposals we sent to the provincial and federal government. We had a great team of people working alongside us that made the process a lot easier," Smith said.
Some of the features they added to the arbour include artificial turf, lighting, stands and an emcee booth with an electric audio system.
"Everyone is welcome. It's going to be a space people can access and rent out. If people want to utilize it for meetings or other events, we will allow that," Bluesky said.
Tuesday's grand opening will include a ribbon cutting, smudging ceremony, feast and live entertainment.
"It's going to be quite the community event. People are excited," Bluesky said. "We're coming out of COVID, so a place like this — and an event like this — is timely. Getting our people together to start feasting and sitting down together is something people are needing. That's part of transitioning from two years of lockdown to hosting community events again."
The community has created a powwow committee to organize events such as a graduation ceremony for the local school.
Bluesky said he's excited Brokenhead will be able to hold cultural events.
"A big part of being Anishinaabe is the drum and dance. That's what sets us apart from other tribes in the region. We have our own songs and dances, so I'm excited to see more powwow dancers come from our community. We already have champion dancers in our reserve and I believe this is going to give birth to some more."
Bluesky said he appreciates the work by Smith and other community members to make the project a reality.