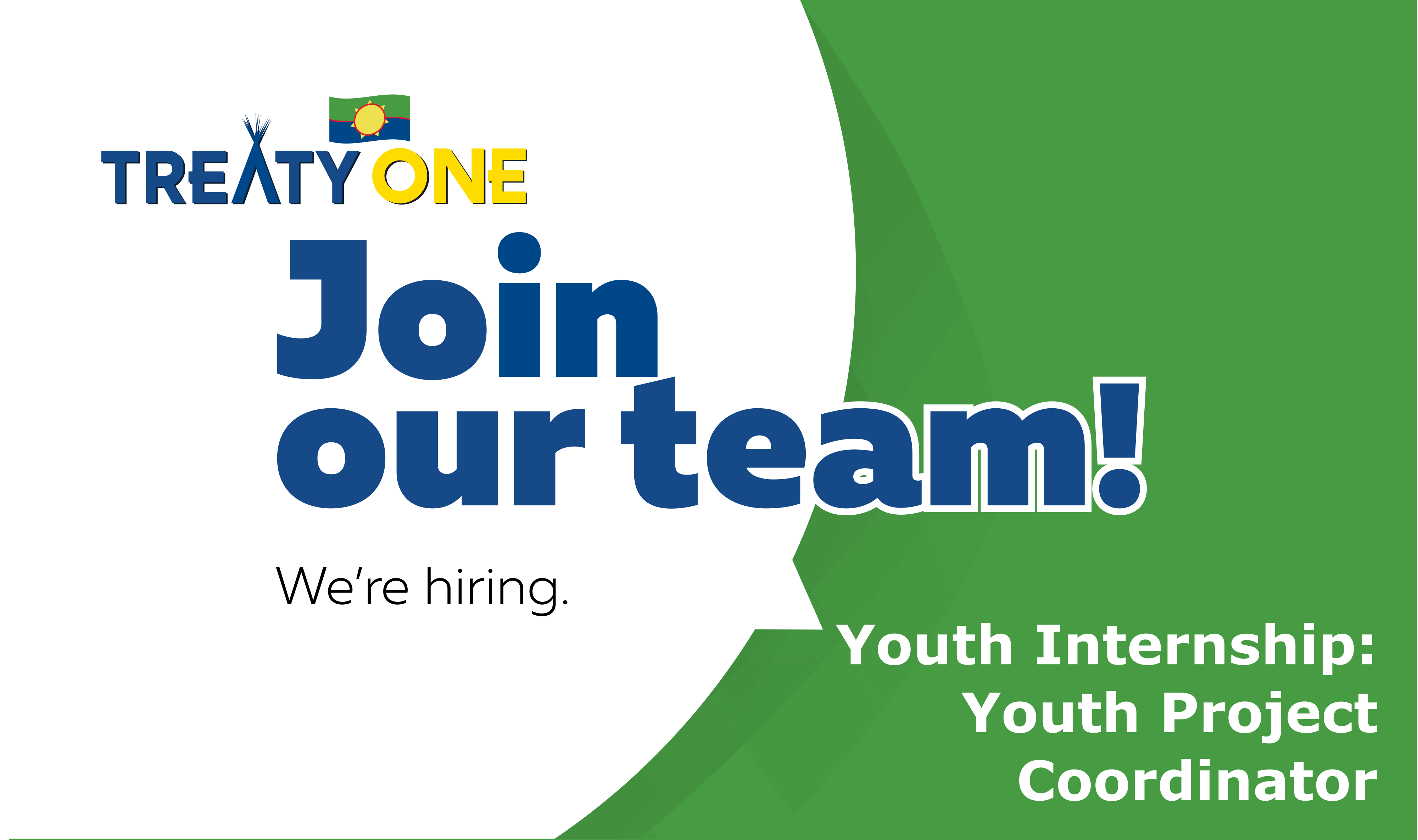 Youth Internship – Youth Project Coordinator
TREATY ONE JOB POSTING
Youth Internship – Youth Project Coordinator
Full-time, Internship, Term position until May 31, 2023
PURPOSE
The Treaty One Youth Internship initiative provides work experience and on-the-job training for First Nation youth. Reporting to the Office Manager and Human Resource Assistant, the Youth Project Coordinator will be responsible for collaborating with all Treaty One departments to assign Youth Interns to assist in daily activities and large projects in the areas of Governance, Economic Development, Communications, Lands Management, and Community Engagement.
ESSENTIAL FUNCTIONS
Collaborate with Managers to identify areas that can provide skill development and experience for the Youth Interns.
Assign interns to tasks that align with the personal and professional strengths.
Coordinate regular meetings for planning, coordination, and implementation.
Manage and build relationships with Treaty One First Nations and external partners.
Perform administrative functions and processes.
Manage day-to-day activities for the Youth Internship Initiative.
Assess performance and produce progress reports as required.
KNOWLEDGE, ATTRIBUTES, AND PERSONAL EXPERIENCE REQUIRED:
Must not be currently enrolled in school.
Candidate must be under the age of 30.
Willing to work an average of 30-40 hours per week.
Excellent interpersonal, organizational, oral, and written communication skills.
Some experience in planning events.
Knowledge of how to utilize social media.
Ability to work independently and collaboratively in a participative work environment.
Must have excellent knowledge of Microsoft Office programs.
Willing to work occasional evenings and weekends.
Be reliable, respectful, and dependable.
Ability to maintain confidentiality within and outside the organization.
Strong verbal and written communication.
Valid driver's license and access to a vehicle would be an asset.
CLOSING DATE FOR APPLICATION IS: Open until Filled
Please submit a cover letter, resume, and three references to:
Kathleen BlueSky, Chief Operations and Strategy Officer
Treaty One Development Corporation
103-1075 Portage Avenue
Winnipeg, MB  R3G 0R8
Email: kbluesky@treaty1.ca
*Please note resumes without a cover letter will not be considered complete.*
Please self-identify as First Nations in your cover letter. Priority will be given to members of Treaty No. 1 Communities. We thank all who apply and advise that only those selected will be contacted for further consideration.